YOUR LAW FIRM IN PITTSBURGH
Behrend & Ernsberger has been serving people like you in Pittsburgh and the surrounding areas of Western Pennsylvania for 50 years. Our knowledgeable legal team is ready to help investigate and work on your case. Your initial phone consultation is free and is the first step to getting you the compensation you deserve for any harm done.
Our attorneys handle a wide range of sensitive legal issues including: accidents, disability, personal injury, divorce, child custody, visitation, estate planning and administration, consumer protection, unfair debt collection, deceptive insurance sales, insurance denials, predatory banking, patent, trademark, copyright, employment discrimination, and wrongful discharge. We help you through the process step by step. Each case is different and requires specialized knowledge and experience to make sure each step is done correctly. With Behrend & Ernsberger, you know you'll receive the kind of attention your case deserves, with a winning team on and by your side. Over the years, we've tried hundreds of cases involving regular people like you. You have the right to seek compensation to pay your medical bills from your accident or injury and we're the attorneys who can help. Here are a few of our past cases:
The Superior Court establishes a credit card holder's right to sue in court for Predatory Banking Practices.

---
Pennsylvania Supreme Court affirms that a consumer may justifiably rely on the oral statements made by a life insurance agent at the time of sale of a policy, unless the consumer knows the sales presentation to be false or unless its falsity is obvious.

---
The Superior Court rules that MetLife must pay policy holder expectation damages.

---
The Superior Court of Pennsylvania explains why vanishing premium life insurance policies are defective.

---
Court says MetLife must pay policyholder 30% interest on money he paid into the policy.

---
Court strikes down the "You should have read your insurance policy" defense in a fraudulent sales practice claim.

---
Court finds that, if Eastern Airlines intentionally caused USAir to terminate an employee by communicating a false version of events, a tort claim has been established for intentional interference of contract.
In a Medicare Fraud claim, court says: "the Plaintiff's evidence presents one of the stronger retaliation claims to have come before the undersigned in recent memory."
---
Policy Holder Sues State Farm for Fraudulent sales practices.

---
Thrift Drug Pharmacist Sues J.C. Penney for Severance Pay.

---
Patient wins Punitive Damages for Abandonment.

---
Insurance Agent States a proper claim against MetLife for Racketeering.

---
Woman Carpenter Sues Union for Sex Discrimination.

---
Widow Gets Worker's Compensation for Husband's Work Stress-Related Suicide.

---
Patient wins Punitive Damages for Coverup of injuries.
---
Landowner gets compensation for unauthorized storage of natural gas on his land.

---
Court issues blueprint for all insurance sales fraud cases in Ihnat, Half, Toy Dilworth, and Tran.
Kenneth R. Behrend
In 1982, Mr. Behrend received a degree in law from the Duquesne University School of Law.

More About Kenneth
Barbara Ernsberger
In 1976, Mrs. Ernsberger received a degree in law from the Duquesne University School of Law.

More About Barbara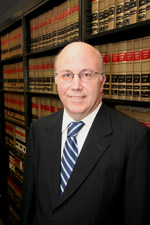 Daniel W. Ernsberger
Mr. Ernsberger is a graduate of Duquesne University School of Law.

More About Daniel
Kevin M. Miller
Attorney Kevin M. Miller is a 2000 graduate of the University of Pittsburgh School of Law.

More About Kevin
Professionalism
At Behrend & Ernsberger, P.C. we love our work. We know you want to resolve your issue as quickly as possible. You wouldn't be coming to us unless you had a serious issue and don't want to drag it out any longer than necessary. Our legal team makes it a point to resolve your legal matter as promptly and professionally as we can. The confidentiality that arises from the lawyer-client relationship is extremely important to us. We are fully committed to the ethical practice of law.
Promptness
We will always return your calls, e-mails, and faxes as quickly as possible. We do not leave clients in the dark.
Resolution
We provide our clients quality counsel in a broad variety of legal matters. With our experience, we can provide you the advice you need to maneuver through the complex laws of Pennsylvania. We will seek the best possible resolution in your case.
Behrend & Ernsberger P.C.
---
(412) 391-2515
BehrendLawyers@aol.com
355 Fifth Ave.
12th Floor
Pittsburgh, PA 15222